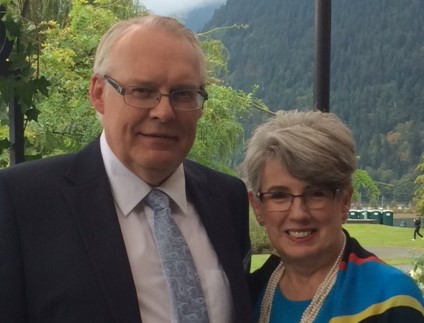 Dieter and his wife Deborah were called into pastoral ministry in 1983. In 2013 Dieter received a "new direction" call into Transitional Ministry. This call made sense for a number of reasons including Dieter's strong belief that the Church and the people who comprise it are still God's main vehicle for reaching the world with the good news of the gospel of Jesus Christ. It's a joy to help local congregations affirm or rediscover the call that God has for them to be part of Kingdom Ministry.

Random facts about Dieter:
Over the last 50 years has played, coached or refereed basketball every winter. He still referees high school basketball and you may see him at a local game this season.He has walked on the Great Wall of China and kissed the Blarney Stone in Ireland.
He and Deborah totally enjoy their eight grandchildren.
Kelsey is a very Spirit-filled woman of God, deeply connected to His heart, and in tune with the Holy Spirit.
With all her heart, she loves the Church and longs for everyone to experience the fullness of Jesus' love, Presence, and power.

Random Facts About Kelsey:

Is a published author

She owns one square foot of property beside a castle in Scotland

She just married her best friend, Aaron, on May 18, 2019

Always has a snack within 2 meters of her
Jared is immensely relational and is always up for spending time with people. His heart is ultimately to see everyone in relationship with Christ. Although he is in a leadership position, he values giving others the opportunity to share and direct the conversation. He also is a man of patience. Pair that with his heart for relationship, and you have a great combination for working with youth.
Random Facts about Jared
He is a talented barista having worked in 5 different coffee shops (including The Ridge)
Teaches drums and plays in a number of bands with his wife Jillian
Writes fiction and is very imaginative
Rarely takes things too seriously (unless absolutely necessary)
Office Administrator/Prayer Warrior
Bethany loves people. The second you enter the doors at Southridge, you will see her at her desk with a welcoming smile. If your new, old or somewhere in-between, Bethany will show loads of love and give a hug or prayer… whatever is needed.
Random Facts about Bethany
Can make any accent sound Spanish
Has lived in more parts of Canada than all the staff combined
Has a guard dog (Chihuahua)
Graduated from New Brunswick Bible Institute